SOCIAL PROGRAM
Preliminary
| | |
| --- | --- |
| Sunday Evening: | Welcoming Reception in the Hotel Pool Area. |
| Monday Evening: | Banquet |
| Tuesday Evening: | Surprise program to be decided |
| Wednesday evening: | Balloon Rides over San Diego Sky with California Dreaming |
California Dreaming: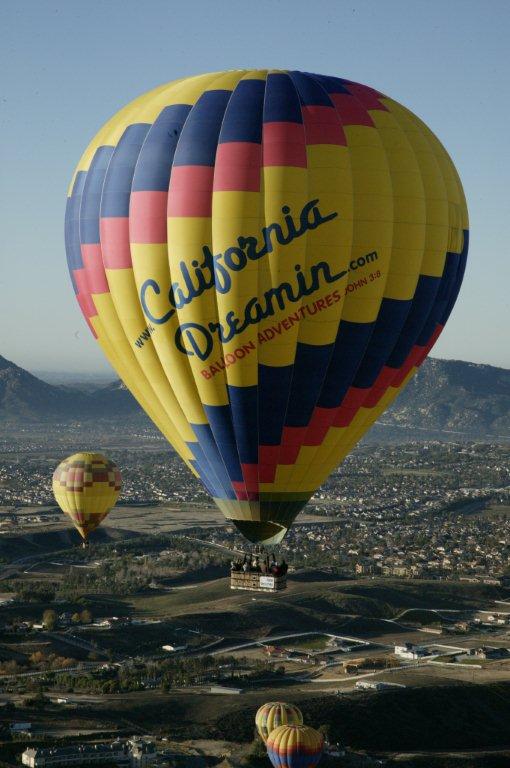 Del Mar Sunset Hot Air Balloon Flights
DURATION: Flights last from 40 minutes to one hour.

PRICE: $198 per person (Monday-Sunday Shared European Basket). Transport included.
Regular Rates are normally $248
Included with every flight is champagne or sparkling cider served aloft or after your flight.
ALL AT NO ADDITIONAL CHARGE!!!
Website:www.californiadreamin.com
Photo gallery:www.californiadreamin.com/photo_gallery

DESCRIPTION: The San Diego Coast beckons, and could be the most perfect weather in the world - you decide! On our Sunset Coastal Balloon Flight Adventure, you will experience spectacular views of the Pacific Ocean and coastal bluffs surrounding Del Mar.You will see the lush setting of the estate homes of Rancho Santa Fe and glowing peaceful sunlight making for the perfect occasion celebration. View the mountains bordering the Borrego Desert to the east, and on an especially clear day, you may see the Coronado Islands to the south. Champagne,
Sparkling Cider and soft drinks will be served aloft by your pilot during your 40 minute to one hour balloon flight. Once you have come aboard our colorful hot air balloons, you'll enjoy an inspired adventure filled with beautiful, sweeping vistas, panoramic views and sky sailing fun that will make lifelong memories.

WHAT TO WEAR: Recommended attire is casual outdoor active wear, and a jacket, sweatshirt or fleece pullover. Comfortable shoes are suggested (no high heels). Because the balloon burners radiate heat, we recommend that if you are over six feet tall that you wear a hat or a cap. In the cooler months you can bring some gloves to wear.

SAFETY: David & Gail Bradley welcome you to California Dreamin. They have built their entire reputation on providing you with the adventure of your life. Since 1977 their pilots, staff, and crew have been extensively trained by employing rigid company practices that go beyond those required by law.

"Quality continues to be our main goal.
Other companies claim to be the best however these companies know the standards we have set as the balloon aviation leader because they have adopted them."

California Dreamin' wants you to know there is nothing more important to us than safety. We are the only company in Southern California to meet the current regulations by the Public Utilities Commission.

BAD WEATHER: Weather is obviously an important factor in ballooning. That is why we have "mandatory" phone calls prior to each flight, for that final "weather confirmation". If we do have to cancel the flight because of weather conditions, of course, there is no charge to our passengers. We usually will be able to fly the following day, either Sunrise or Sunset Flights. It is highly recommended that you keep a couple of "optional" days in mind when making your balloon ride reservation, just in case there is a weather cancellation.

DIRECTIONS:(For those who want to go with their own vehicles)

From downtown San Diego:
Take Interstate 5 North and exit at Lomas Santa Fe. Turn right at the stop light onto Lomas Santa Fe. Go to Las Banderas Dr. and turn right. Turn Right on the first street, San Andreas (no light). Immediately you will see Vons, park behind Vons (
931 Lomas Santa Fe Drive Solana Beach, CA 92075
). Please look for the Yellow Balloon Trailers and the crew to check in for your flight.