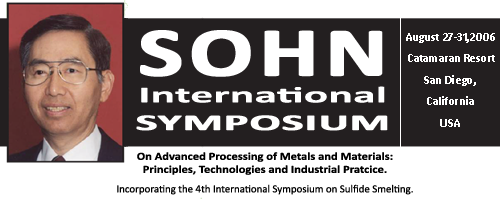 Home

Benefit from discussions on recent developments in:

Advanced processing of metals and materials, and industrial application principles
New and improved technologies related to extraction and processing
Industrial practice in metals and materials processing

Choose from more than 50 sessions presented by authors from 55 countries, covering:

Nonferrous High Temperature Extraction and Processing
Iron and Steelmaking
Aqueous, Electrochemical Processing and Molten Salts
Nano, Composite, Refractory and Polymer Materials
Recycling, Recovery and Waste Treatment
Sulfide Smelting
Legal, Management and Environmental Issues





FINAL PROGRAM
(PDF DOWNLOAD 3.9 MB)


SIPS is the flagship event of FLOGEN STAR OUTREACH, a not-for-profit, non-political and all-inclusive science organization. SIPS as well as FLOGEN STARS OUTREACH takes no sides in political, scientific or technological debates. We equally welcome, without reservations, all spectrum of ideas, theories, technologies and related debates. Statements and opinions expressed are those of individuals and/or groups only and do not necessary reflect the opinions of FLOGEN, its sponsors or supporters.
© Copyright FLOGEN 2001 - 2023